First Nations Focus Story collection
TDA have curated a story collection called First Nations Focus to recognise and celebrate the vital work that members nationwide do with First Nations students and communities to help them achieve their goals.
 Australia's First Nations people are renowned as story tellers. The power of story has been used for over 65 000 years to share culture and the challenges and triumphs experienced.
Stories help to make a connection. They are seen in many forms including in song, art and drama. Indigenous stories are also being used more within the education sector itself to support learning.
TDA Members in every State or Territory of Australia have contributed to the First Nations Focus story collection. The stories represent just a taste of the important work TDA members are doing to support our First Nations people.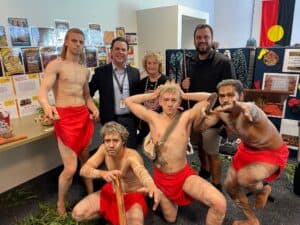 Djuker Willis-Hart is a proud First Nations man who is using his experience and expertise as a walking guide to help his peers in his community build their own careers.
A guide by trade and a guide by nature, Djuker is a living example of this year's theme for Reconciliation Week: 'Be a Voice for Generations".
Read More »