Family is at the heart of Lara's art – TAFE Queensland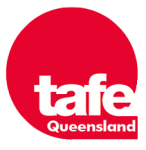 Family is at the heart of Lara's art
Badu Islander Lara Fujii blends family stories with natural elements to create acclaimed cultural artwork. Lara is from the Argan Tribe in the Torres Strait and recognises the Thupmal (golden horn stingray) as her Totem.
Lara has always been creative and remembers fondly how her artistic journey started.
"In Year 11, I saved up my pocket money and when I had enough for a bus ticket, I ran away from boarding school in Rockhampton. I travelled to Cairns to attend art school at TAFE and I was there for two years," Lara said.
Despite her rebellious act, Lara said her mother was always supportive of her artistic endeavours.
"My mum had always encouraged me to do art. I started by making jewellery and chimes from natural elements I found in the bush or at the beach. Every lot I made, mum always bought a piece," she said.
Lara went on to start a family and, despite being a busy mum-of-six and working other jobs, she continued to build her art portfolio. She showcased her work at markets, sold jewellery to Australian museums as well as the Gab Titui Cultural Centre on Thursday Island, and exhibited work at UMI Arts in Cairns.
Despite her artistic achievements, Lara wanted to step outside her comfort zone and return to TAFE Queensland for more training. She enrolled at the Cairns campus, travelling from her home on Badu Island to undertake not one, but two qualifications, a Certificate III in Aboriginal and/or Torres Strait Island Cultural Arts and a Certificate IV in
Aboriginal and/or Torres Strait Islander Cultural Arts.
"I wanted to refresh my skills and to work with new mediums to see if I liked them. I got to try linocut, etching, block printing and work with canvas. The training really gave me the boost I needed. It's one of the best things I've ever done."
For Lara, her art practice is strongly connected to her family life.
"My work is often inspired by my sons who are all cray divers. They will come home with shells or other natural items for me to use in my art. They also tell me their stories about seeing hammerhead or tiger sharks which inspires my work," Lara said.
"I also enjoy collecting natural resources myself which have washed ashore or are from the bush. Every piece I have has a story or place or memory attached to it, whether it be driftwood, shells, dried sponges, leaves or bark," she said.
During her training, Lara was encouraged to display work at one of Australia's most prestigious art events, the Cairns Indigenous Art Fair.
Lara said a mess created by her kids was the stimulant she needed to inspire the work she would later exhibit.
"One day my sons came home and they were covered in sand and it went all over the back veranda. Then my sons started telling me about their time at sea and that the coral was spawning. As I looked at the sand on the veranda I realised I could use it to represent coral babies, so I created Kazil Imaik (child is born)."
Lara's work on canvas resonated strongly with visitors of the Cairns Indigenous Art Fair and it went on to win the 2022 People's Choice Award.
"Winning the award hasn't really sunk in. It is a great achievement, as it was the first time I had ever entered work into the art fair. Winning has motivated me to create more art and to keep entering and displaying my work. Winning this award has been a real eye-opener, as it has shown me the new skills I've learned from TAFE Queensland are broadening my horizons."
Lara, who is an artist at the Badu Art Centre, said it's never too late to learn something new.
"No matter how old you are, if you have a passion for art, the TAFE Queensland training is the best thing you could do. I've learned new skills and new ways of doing things which I've been able to apply to my art. Because of my training, I now have more courage and confidence to speak up about my work," Lara said.
Republished with kind permission of TAFE Queensland