Nursing team embraces change to create learning opportunities for students – TasTAFE
TasTAFE's nursing team, which delivers the Diploma of Enrolled Nursing to around 200 students state-wide is embracing some of the changes brought about by COVID-19 as a new learning opportunity for students.
With many health practices switching to telehealth consultations over the past few months to meet social distancing requirements, the nursing team saw an opportunity to incorporate this model into student learning.
Role-play assessments usually done with mannequins in workplace simulations rooms have been temporarily replaced with telehealth consultations, allowing students to continue with practical learning in the digital world.
TasTAFE Head of Discipline – Nursing, Jonette Scott, said students had been playing the role of nurse, assessing clients (role-played by teachers) via online telehealth consultations.
"We've had great feedback from the students who have really enjoyed this as a teaching method. We saw this as a clever way of continuing to progress with some of the practical elements of the course and getting the simulation side of things done, when our students weren't able to come onto campus.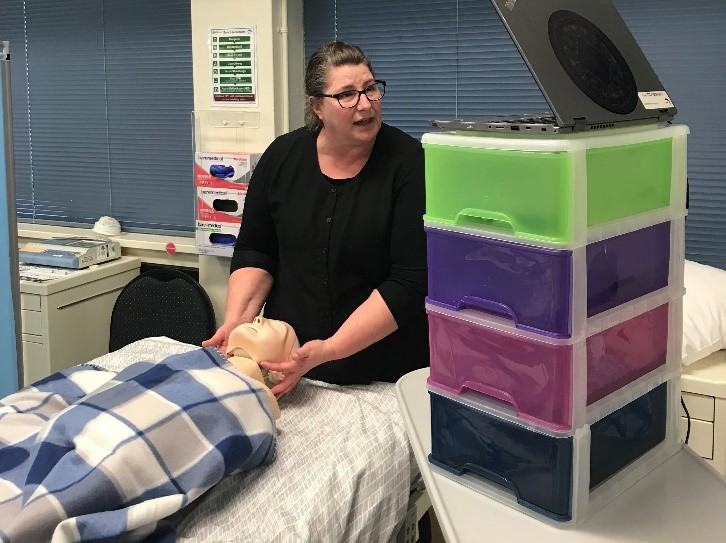 "Telehealth consultations have become the norm all over Australia at the moment so it's a great opportunity for our students to get real-world experience. It's likely that post-COVID-19, many doctors and health practitioners will continue to offer telehealth consultations so it's a great way for our nursing students to gain experience in working in this model," Ms Scott said.
She said the team would consider incorporating telehealth consultations into the chronic health assessments section of the course on an on-going basis.
Since 11 May TasTAFE has been inviting small groups of students, including nursing students, onto campus for timetabled sessions to continue practical components of their learning, working with the current restrictions associated with COVID-19.
Other learning continues digitally, in line with safety guidelines which specifically state that TAFEs must continue to deliver online learning where possible, and to maintain small class sizes if face-to-face learning is required.
With a cohort of nursing students that includes a number of parents with school-age children, Ms Scott said the nursing team has worked hard to ensure their online learning delivery model is working for all students.
"With many parents juggling study with home schooling over the past few months we recognised that we needed to be as flexible as possible to keep our students engaged.
"Our teachers have been really flexible. They've delivered online tutorials using Skype and Zoom and things like discussion boards, in the morning and then repeated them again at 8pm at night so that it worked for parents or people working during the day. We've found that this means that we've had a really good uptake for our online learning because we have adapted it to suit the needs of our students," Ms Scott said.