All paws on deck as animal studies class returns to campus – Bendigo TAFE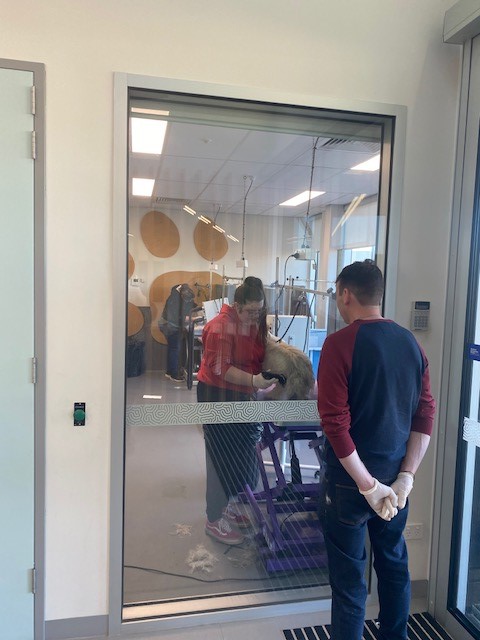 It was all paws on deck at Bendigo TAFE's Food and Fibre Centre of Excellence this week as animal studies students returned to campus for dog grooming practical assessments with social distancing measures in place.
Prior to this, the students have been training remotely for over five weeks, through a combination of virtual classrooms and digital practical demonstrations, in response to the COVID-19 pandemic.
"Our students were thrilled to be back on site and were amazed at how much they actually learned during the digital theory delivery and that they were able to put that theory into practice," said Bendigo TAFE's Director of Food and Fibre, Nicole Broe.
Social distancing measures such as staggering student participants, sanitisation, use of personal protective equipment where applicable, spacing of work stations and observations behind a glass wall, were in place throughout the sessions which accommodated four groups of two students each.
"Our delivery modes are flexible, adaptive and multi-faceted, which means a combination of theory and innovative practical training and assessments". 
"We are very pleased with the success of our first animal studies practical assessment in the COVID-19 environment. It's set an example for how we will run upcoming practical sessions for other courses," said Ms. Broe.
Bendigo TAFE CEO Sally Curtain said significant work has been undertaken, and continues to be underway, to reintroduce students and staff to campus. 
"As the Victorian Government has recently highlighted, TAFE is a key part of the vocational education sector with a critical role to play in the post-pandemic world to build skills and ensure students become job-ready," she said.
"As an essential service, Bendigo TAFE has continued to operate and teach during the pandemic, just in a different way. We are very appreciative of our dedicated educators and students who have responded and adapted so positively to the new teaching and learning environment.
"We have everyone's health and safety at heart and take guidance from the Government as we reintroduce our students and staff to campus in a staggered, methodical way.
"This means theory being completed through online classes and practical assessments on campus in smaller numbers with strict social distancing measures and personal protective equipment as required."
For more information about Bendigo TAFE courses are available at http://www.bendigotafe.edu.au.
About Bendigo TAFE
Bendigo TAFE is a division of Bendigo Kangan Institute, one of Australia's largest TAFE providers. A major training provider for a broad range of industries and sectors, Bendigo TAFE provides services through campuses in Bendigo, Echuca and Castlemaine, and supports students, industries and businesses throughout the region and beyond.
Bendigo TAFE's courses in agriculture, landscape construction, parks and gardens, wool classing and landscape design are delivered through its specialised Food and Fibre Centre of Excellence based at Charleston Road campus, with programs also offered at Castlemaine campus.
Visit http://www.bendigotafe.edu.au for more details.