A life-changing day led to a career in mental health – Chisholm Institute
12 April 2021
In 2015 Manish KC was a student in Year 12, living at home and working part-time for an education consultancy. He was keen to become a nurse but that wasn't possible in Nepal. He was still working out his options when disaster struck and his life took different path.
A major earthquake in Nepal in April 2015 killed lmost 9,000 people and injured nearly 22,000. With a magnitude of 7.8, it was the worst natural disaster to strike Nepal in more than 80 years. And Manny was in the thick of it.
"The earthquake struck a week before my high school board exams and it changed everything," said Manny. "I'd left my room just moments before and it was totally destroyed. It was my safe space and it was gone. But I was lucky to be alive.
"It was a terrible experience – the yelling, the injured people all around. It's still with me today. I saw houses all around me collapse and I helped pull people out of the rubble. Our hospitals were overflowing and it was chaos. We weren't prepared and we didn't have enough healthcare workers to deal with it."
This event changed Manny's life. It motivated him to follow his dream to work in the health industry. And losing his safe space gave him the impetus to move to the other side of the world to pursue his career goals. But he found that getting to Australia was an adventure in itself.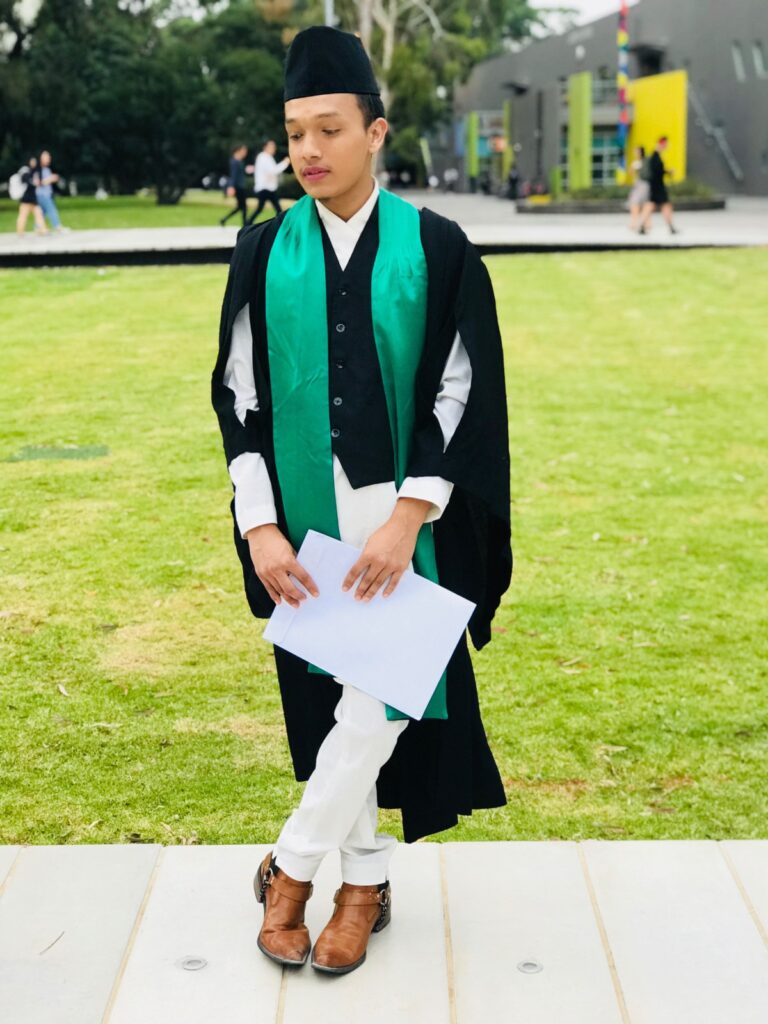 "My visa was delayed and when it finally came through I had just 10 hours before I had to get on my plane. It was crazy, but I didn't have time to panic," he explained. "Chisholm staff were fantastic the whole way. Through them I found guardianship and a home stay. Their help and support made a big difference."
At first, Manny found moving to a new city alone to be confronting. He was struggling with his sexuality and dealing with mental health issues, but he wanted to face his challenges and overcome them. With that determination it didn't take him long to make connections and then friends in his new community.
"From my first international qualification and my first ever concert, to enjoying a backyard BBQ, amazing beaches, my first car, the growing number of amazing people I meet from all walks of life – being part of the community here is an experience in itself," explained Manny.
"I'm an immigrant, person of colour from a third-world South Asian developing country. So the value of being part of a multicultural and diverse community isn't lost on me. I really enjoy the feeling of inclusivity. Whether it's festivals or foods or music, Melbourne has it covered."
Because Manny was only 17 when he arrived, he decided that he didn't have the maturity to undertake a degree. So he enrolled in a Diploma in Nursing. That turned out to be a good decision. He found it gave him a greater understanding of different aspects of nursing and meant he could work as a nurse when he continued on to his degree in mental health.
"On day one at Chisholm everyone was so welcoming, it was amazing," he said. "I fitted in from the beginning and never looked back."
Manny soon became active on campus. He was appointed a Chisholm Student Ambassador where he assisted other students and was a founding member of Chisholm's international student club. To support himself while he was studying he took on hospitality work, going from dishwasher to running the daily operations of the kitchen, then coordinating front-of-house at a restaurant.
After successfully graduating from the Diploma of Nursing, Manny worked as an enrolled nurse in aged care and transitioned into his area of interest – mental health. He then enrolled in Chisholm's Bachelor of Community Mental Health, Alcohol and Other Drugs, graduating in 2020 with excellent grades.
"Studying for both qualifications at Chisholm was great and the teachers were fantastic. I loved the smaller classes because it's much easier to learn and ask questions. Students can all get to know each other and engage with staff easily. At Chisholm, every student is heard."
Today Manny works as a psychiatric nurse in an inpatient unit in a public hospital in Melbourne. He found that job while his nursing diploma helped him understand the medical, physiological and pharmacological aspects of care. His degree in mental health gave him knowledge of the psychological aspects in addition to comorbid conditions, services, counselling and more.
"Mental health is such a rewarding field. I love my job. Sometimes I complain about it, but I can't imagine doing anything else," he said. "With our patients we have to deal with stress, occasional aggression and comorbidities, so things can get complex. But talking with someone and calming them down can make a huge difference. It's amazing what words can do. Even though it's challenging, this is definitely the job for me."
For Manny, studying overseas and building a new life was the right decision. Apart from gaining professional qualifications and valuable work experience, he has significantly increased his personal resilience and confidence.
"Now I'm working in a job I love. I have friends and a full, happy life in Melbourne. But I feel I have so much more to learn. I might go on to study psychology, social work or even transfer into medicine. Nothing is decided yet, but all my options are great."
When prompted, Manny had some good advice for other international students.
"Embrace the diversity and appreciate the community you are now a part of," he said. "You're away from home, possibly away from loved ones, but you can make Melbourne your home.
"Have fun, meet new people, make connections, go sightseeing, attend festivals, but remember that you're here as a student. So as much as you enjoy everything else, make sure you enjoy and invest in your studies – that's your future."