Understanding the return on investment from TVET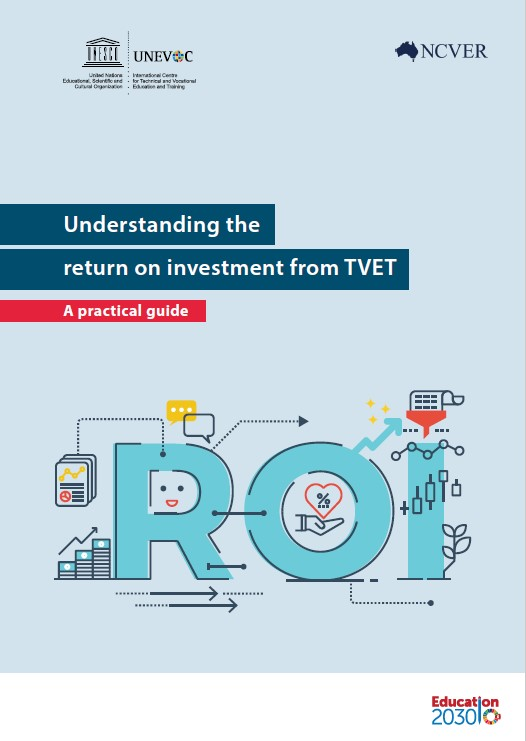 In a multi-year international research collaboration, UNESCO-UNEVOC and the National Centre for Vocational Education (NCVER) have jointly published a timely report on better understanding the return on investment from technical and vocational education and training (TVET). Authored by Jane Schueler and Phil Loveder from NCVER the guide aims to:
Identify the main issues and key elements to measure the return on investment (ROI);
Present a framework that encompasses different stakeholder groups and identifies key ROI indicators; and
Provide fundamental guidelines and tools for ROI planning and data collection.
Context
Strengthening technical and vocational education and training (TVET) is an important strategy to contribute to equitable, inclusive and sustainable economies and societies. It is one of the sustainable development goals which focuses on ensuring 'inclusive and equitable quality education and promoting lifelong learning opportunities for all'.
However, in a world of competing demands, accountability for public spending in education is more important than ever before. The international spotlight is now clearly fixed on the need to measure the ROI and promote the financing of TVET.
Content
This Guide presents an analytic framework that summarises some of the main elements and issues that need to be considered in measuring ROI. This includes establishing the scope, context and purpose for measuring ROI, adopting guiding principles, identifying costs, benefits and factors that impact on ROI, and approaches to data collection and analysis. The Guide introduces a framework that looks at the ROI equation from a range of perspectives – including economic and social dimensions – and for different stakeholders, including individuals, businesses and societies.
Relevant ROI indicators and measures drawn from the existing international research are explained. Finally, it provides guidelines to planning and collecting ROI data, along with a set of practical pro forma resources and case studies to assist the reader.
Who benefits from understanding ROI
This Guide has been prepared for stakeholders that want to better understand the social and economic value being generated by their training activities, or by the programs or activities they are funding. Given the multi-layered contexts of ROI, numerous stakeholders in TVET could benefit from utilising this framework.
A ROI analysis is versatile in its application. It is useful for public policymakers to gather knowledge to understand economic and social value of TVET investments and evaluate policies, and for public funded institutions to collect evidence of benefits to establish compelling business cases to invest in training.
A ROI analysis is a practical tool for managers to use to improve performance, and for businesses to assess the productivity monetary returns from investing in human capital. It also provides funders with a decision-making tool for identifying, assessing and measuring investments, and provides guidance to individuals on career choices.