TDA welcomes Microsoft Australia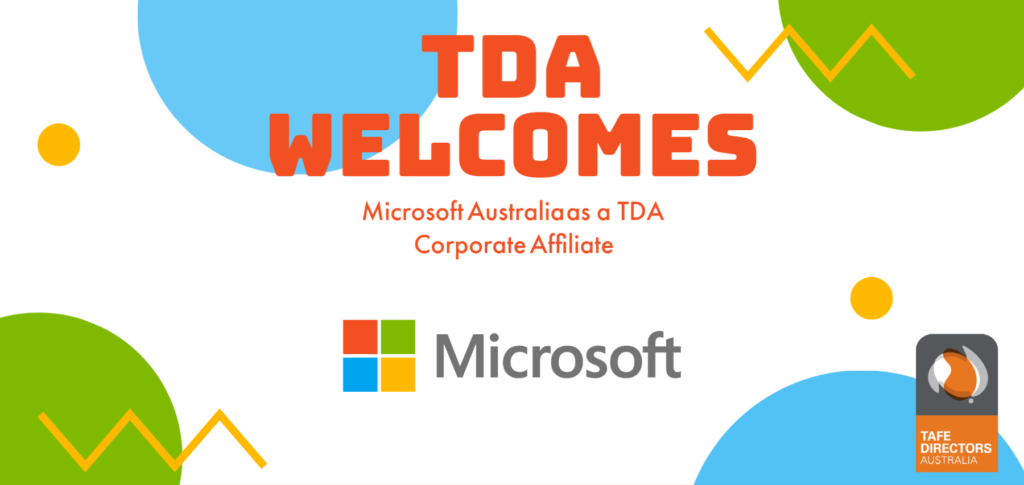 TDA values working with industry partners to help Australians fulfill their potential and for employer and industry partners to prosper.  In August last year, with industry partners, TDA made a submission to the Australian Government on the Critical Role of Blue Tech and Digital Skills in Australia's Economic Recovery.  We continue to seek the Australian Government's support for this submission as a part of this year's Mid-Year Economic and Fiscal Outlook, due for release in December, and as part of its commitments for the upcoming federal election.
In the meantime, TDA and its member TAFEs with the support of industry partners such as Microsoft Australia, are equipping TAFE students and TAFE partner employers and industries with the knowledge and skills required in an Australian economy that is digitised.  There are four aspects to this:
The confidence and the capability to educate and train with personalised learning experiences in digital or virtual environments, and to confidently use technology, software and applications.
The confidence and the capability of students to engage in a sector of the economy of their choosing, given the degree of digitisation within that economic sector.
The seamlessness of utility of inclusive on-campus and connected learning environments for students, and for educators and trainers.
Working with the 99.5 per cent of employing business in Australia, which are Small or Medium Sized Enterprises (less than 200 employees), that are the natural partners of TAFEs and of Microsoft Australia.


Prime Minister Scott Morrison said at a National Press Club speech last year, "When I was Treasurer, it used to really frustrate me, I've got to say, it used to trouble me that small and medium sized businesses, particularly small, were not yet taking up digital technology as fast as they could. And this was holding them back. That was the frustration." 
TAFEs and Microsoft Australia are the natural partners of Australian SMEs, as drivers of technology transfer across employers, industries, and the economy.  Technology transfer is not a 'thing'; it is people. TDA and its member TAFEs and Microsoft are committed to equipping all Australians, irrespective of background, with the knowledge and skills, and their application, for an Australian economy that is digitised, so they may have an opportunity to share in economic benefits and the social inclusion that flows from that.
TDA welcomes Microsoft Australia as a TDA Corporate Affiliate and we look forward to an on-going partnership. In joining with TDA, Microsoft Australia also joins with TDA's existing corporate affiliates in providing informed industry perspectives to TDA and its member TAFEs.
Together we look forward to providing updates as we continue the journey to equip Australians, irrespective of background, for an economy that is digitised and to contribute to the prosperity of firms and industries in Australia.