TAFETalks: Micro-credentials: developing with and for industry
TAFETalks: Register Now for Wednesday 16 February 2022!
Registration for these events is free! If you cannot attend the event live, please register and we will send you the link to the recording.
TAFETalks: Micro-credentials: developing with and for industry
Date:               Wednesday 16 February at 2.00pm AEDT (Canberra/Melbourne/Sydney time)
Duration:        1.5 hours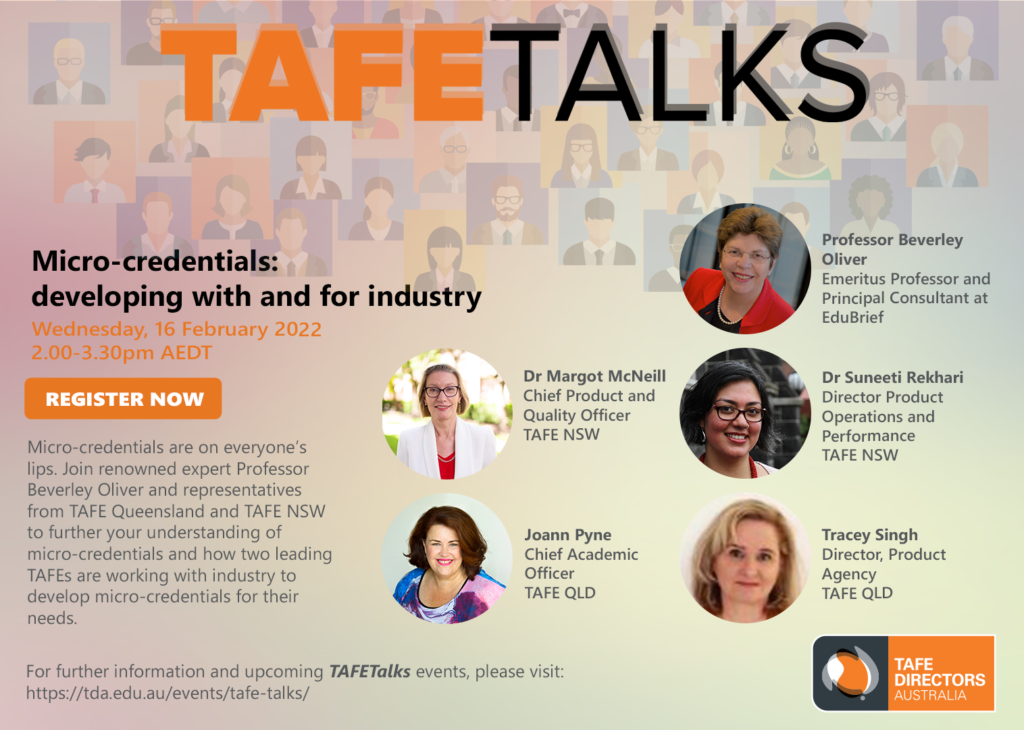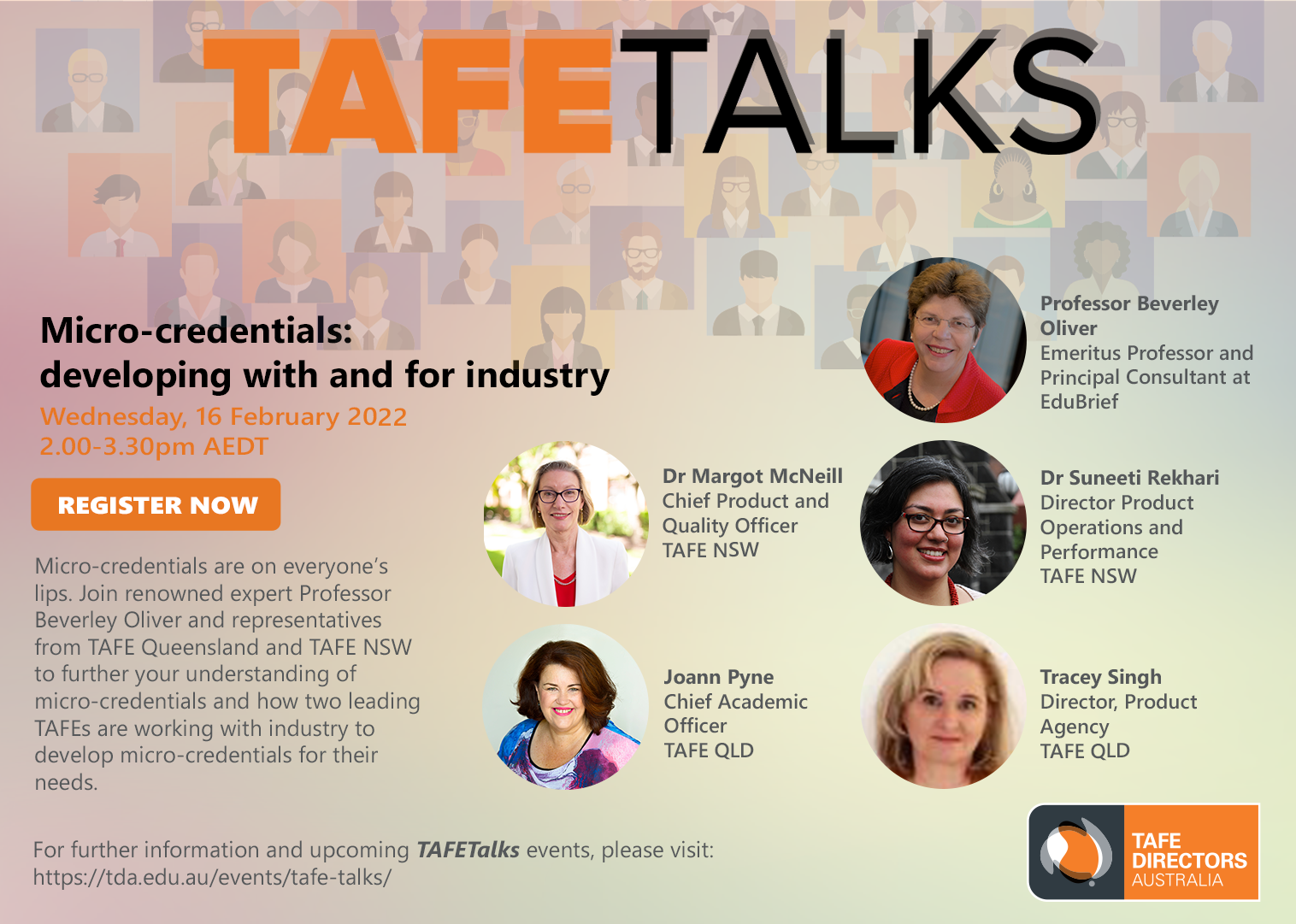 Register now as places are filling up fast!
Registration:  To register for this event, please click here.
Professor Beverley Oliver
Emeritus Professor and Principal Consultant at EduBrief
Beverley Oliver is an Australian National Teaching Fellow (ALTC); Principal Fellow HEA; and qualified Company Director. Recent experience includes Deputy Vice-Chancellor Education at Deakin University (2013-2018), Deputy Chair of Universities Australia's Deputy Vice-Chancellors (Academic) (2018) and Deputy Chair of EduGrowth, a not-for-profit Australian acceleration network for high-growth, scalable, borderless education (2016-2018). Beverley now works as a higher education consultant and continues to research, publish and present on topics such as digital education, micro-credentials, curriculum transformation, quality assurance and graduate employability.
Dr Margot McNeill
Chief Product and Quality Officer, TAFE NSW
Margot McNeill is Chief Product and Quality Officer at TAFE NSW, responsible for a large and diverse team leading the design, development and quality assurance of curriculum products for almost half a million students. Prior to this role, Margot has held a range of senior management positions and consultations in higher education and vocational sectors, public and private, in Australia and New Zealand and is a Principal Fellow of the Higher Education Academy.
Margot's research interests and much of her strategic leadership explore technologies for learning, teaching and assessment, change management and staff capability building. She has a PhD focused on assessment with technologies, two master's degrees and a Bachelor of Arts with Diploma of Education. Educational leadership roles include as a research team member on TEQSA's Academic Integrity initiative, facilitating a series of workshops across Australia and New Zealand during 2019 and developing a toolkit to be shared across the sector.
Dr Suneeti Rekhari
Director Product Operations and Performance, TAFE NSW
Dr Suneeti Rekhari has over 15 years' experience in the Australian tertiary education sector, leading the development and implementation of innovative learning and teaching products at scale. Suneeti has a strong background in curriculum transformation, active technology-enhanced learning, and building teacher capability. In recognition of her global leadership in these fields, she is a Principal Fellow of the Higher Education Academy. She is currently Director Product Operations and Performance at TAFE NSW where she leads a complex strategic and operational product portfolio ensuring high quality, contemporary, effective and industry focussed learning and teaching. 
Joann Pyne
Chief Academic Officer, TAFE QLD
Joann Pyne has over 20 years of experience in both local and federal government across a variety of senior executive roles. Joann has been instrumental in developing a range of programs that have received awards for their innovative approach, unique and successful partnerships, and their responsiveness to business, industry and community. Joann is passionate about ensuring TAFE Queensland is seen as the premier training provider and an advocate of Indigenous vocational education in Queensland that students, employers, industry and employees are proud to be associated with. Joann is a Graduate of the Australian Institute of Company Directors.
Tracey Singh
Director, Product Agency, TAFE QLD
Tracey is the Director, Product Agency within the Chief Academic Office of TAFE Queensland and has been working with TAFE Queensland for over 10 years, primarily working in the product, stakeholder engagement and commercial areas. Present responsibilities include the design and development of product for commercial clients, with a particular focus on the co-design of product with industry networks to provide targeted outcomes. Within the past twelve months Tracey has been responsible for leading co-design projects across diverse industries including the resources, community services and health sectors, and the development of product including accredited courses, skillsets and micro-credentials.