Student makes the switch from industry to community – TAFE NSW Ultimo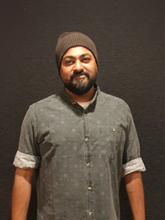 Dulwich Hill local Prasanga Wijesinghe has followed his true passion and made the switch from trade professional to a rewarding career in the community services sector.
The health care and social assistance industry is the largest employing industry in Australia, according to the Australian Industry Skills Committee, with 1.7 million people employed nationwide in the sector in 2019 – a number expected to grow to 1.9 million by 20241.
After dedicating himself for 22 years as a professional in the printing industry, 14 years of which he was actively involved in youth development as a volunteer at Marrickville Police Community Youth Club (PCYC), Prasanga decided to change careers and pursue the Diploma of Community Services at TAFE NSW Ultimo to become a full-time community services professional rather than just a part-time volunteer.
"Working with youth as a volunteer and basketball coach at Marrickville PCYC helped me realise how crucial community services organisations and workers are to our society and that I had a real passion and aptitude for community services work," Prasanga said.
"I chose the Diploma of Community Services because I believe it is the best way I can aid and support those in our society who need it the most. The Diploma has provided me with skills, knowledge and qualifications which are adaptable to different types of services such as youth work, aged care, disability and mental health. I now have so many new options to help people as well as to develop our communities."
TAFE NSW Head Teacher of Community Services Prem Mahara said community services professionals were vital to supporting society's most vulnerable.
"The health and community services industry is responsible for the wellness and well-being of all Australians. This is a significant task, and it involves a diverse range of occupations in areas such as childcare, aged care, primary care, mental health and disability," Prem said.
"Many of the people who provide these services in our communities gained their practical skills through vocational education and training courses at TAFE NSW. The Diploma of Community Services has provided Prasanga with a professional grounding in youth work, and he hopes to continue his learning journey by completing a Bachelor of Social Work in the future."
Prasanga continues to support his local community as a volunteer at Marrickville PCYC, while working as a residential support worker for Stride. He said that he finally feels that he is doing something that he truly believes in and can make a difference in the lives of the members of our community that are vulnerable, neglected and suffering.
"I am happy in my new job and how much my life has changed for best since I embarked on this journey.