State of the art cyber security training – South Metropolitan TAFE, Perth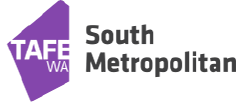 October 2020
The opening of a state of the art Training Cyber Security Operations Centre (TCSOC) late last year at South Metropolitan TAFE's Murdoch campus aims to address the critical shortage of trained cyber security professionals both statewide and nationally.
To work towards meeting the demands of this growing industry, the TAFE has developed one of the first TCSOCs in Australia, which is designed for students to learn in a closed and secure training environment which simulates cyber-attacks and allows for defence and monitoring. The centre is an integral part of cyber security training for South Metropolitan TAFE students. Key industry personnel recognise the new facility is a step towards addressing a growing industry shortage. The TCSOC is multi-campus with the centre based in Murdoch with 'nodes' at Thornlie and Rockingham campuses in order for all IT students to experience this leading edge training.
The Murdoch campus is centrally located with the Murdoch health and knowledge precinct, making it the ideal location for cyber security training. South Metropolitan TAFE has networks with industry associations such as the Australian Computer Society, Australian Information Security Association and Health Informatics Society of Australia, ensuring our students have access to industry expertise and networking opportunities.
Cyber security qualifications
South Metropolitan TAFE successfully introduced certificate level cyber security qualifications in 2018 and was the first TAFE in Australia to offer the Advanced Diploma in Cyber Security mid last year. Graduates will have the knowledge and skills that will equip them to provide a comprehensive set of technical services beyond networking.
The Certificate IV in Cyber Security promises a pathway to a lucrative career. Knowledge and skills gained include:
cyber security concepts
authentication and encryption
network scripting
professional ethics
security data analysis.


A capstone industry-scenario project applies in the last term to consolidate the skills gained.. This course leads to a job of the future with STEM skills highly prized in the protection of data. This qualification is directly aligned with priority industry areas where the jobs are today and into the future and is  part of the WA Government's Lower fees, local skills initiative,
The certificate course provides a pathway to the Advanced Diploma of Cyber Security which leads to higher level skills such as:
perform security risk assessments for an organisation
implement best practice for identity management
evaluate an organisation's compliance with relevant cyber security standards, laws and codes of practice
evaluate and implement security protection devices and software
manage a cyber security environment
assess and secure cloud services
perform digital forensic investigations on workstations and mobile devices.


These courses may be offered with a blended, flexible delivery model so social distancing measures during the COVID-19 pandemic can be met. This includes a mix of online and classroom based delivery, as well as practical and work experience placements.