A TAFE Directors Australia (TDA) tem o orgulho de apresentar… TAFETalks
TDA is excited to announce upcoming events in the TAFETalks series.
Registration for these events is free! If you cannot attend the event live, register anyway and you will receive a link to the recording.
TAFETalks fornecer uma plataforma virtual para o pessoal do TAFE e outras partes interessadas VET se reunirem, para compartilhar, aprender e criar conexões entre institutos e estados e territórios sobre questões e prioridades atuais.
A equipe do TAFE é fortemente encorajada a participar de eventos e participar integralmente das sessões de perguntas e respostas e bate-papo em grupo, no entanto, TAFETalks estão abertos a todas as partes interessadas.
TAFETalks: Register Now for Wednesday 18 May 2022!
TAFETalks: Cyber Security: Building capability to respond to risk
Wednesday 18 May
2.00 – 3.00pm AEST
TechnologyOne will join TDA to host a discussion about one of the most significant risks facing all organisations today – cyber security.
Patrick Kidd, CEO of the Digital Skills Organisation (DSO) will be a guest presenter. As one of three Skills Organisations, the DSO has implemented a pilot with the Canberra Institute of Technology (CIT) to develop contemporary digital capabilities, including to combat cyber risks.
Patrick Kidd will be joined by Fiona Mitchell, Director, Industry Engagement at CIT to outline the approach being taken through the Canberra Cyber Hub – an innovative pilot program which has just been launched in Canberra to solve the cyber skills shortage.
Peter Nikoletatos, Industry General Manager for Education at TechnologyOne will share insights on how education institutions can better manage their cyber security threats. Peter will draw on TechnologyOne's 2021 Tertiary Education Digital Transformation Index.
As all executives and Board directors are acutely aware, workforce capability to manage cyber security is critical. This discussion will provide insights into strategies and practical examples for building digital capability in the area of cyber security.
Please register for this event aqui.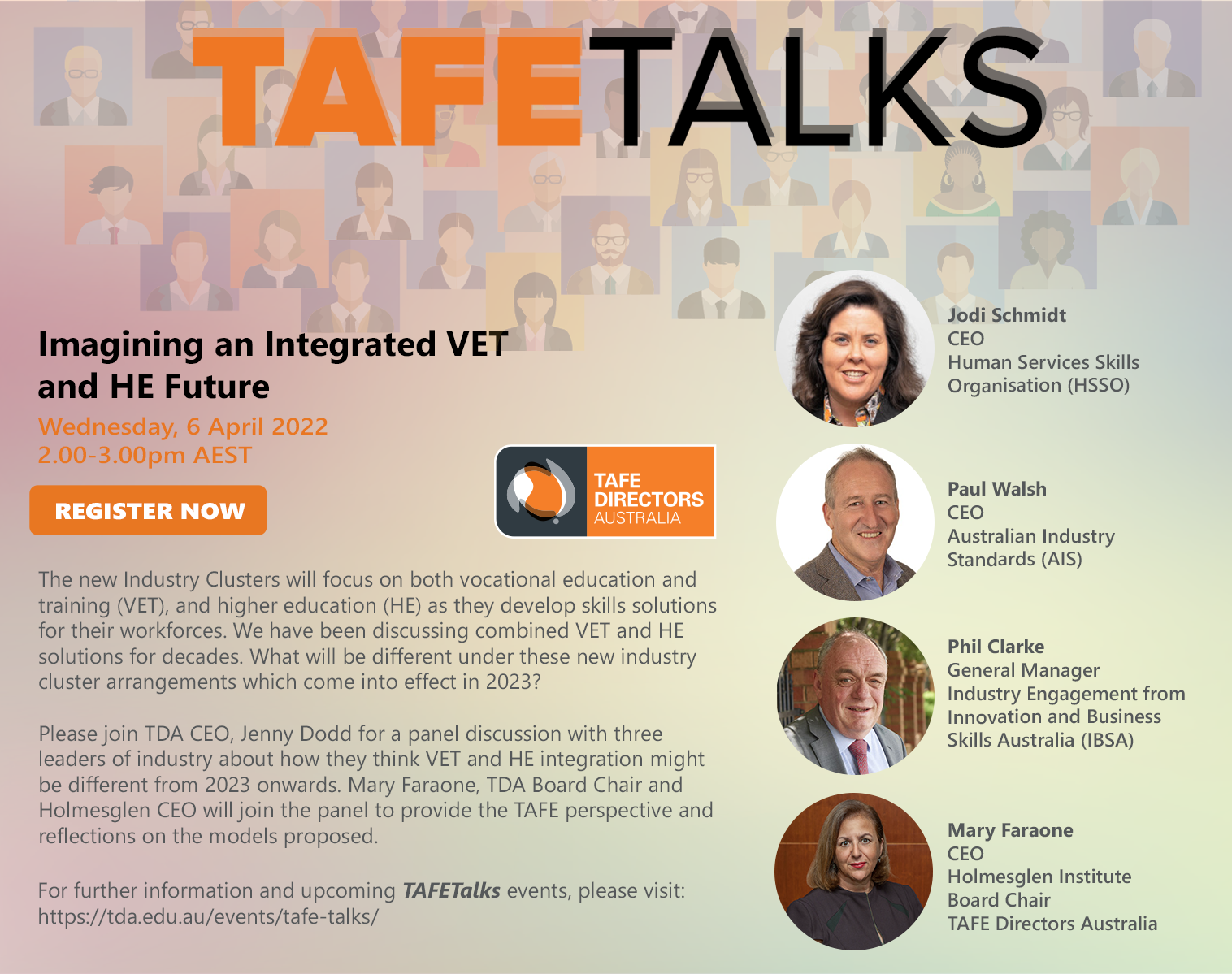 The new Industry Clusters will focus on both vocational education and training (VET), and higher education (HE) as they develop skills solutions for their workforces. We have been discussing combined VET and HE solutions for decades. What will be different under these new industry cluster arrangements which come into effect in 2023?
Please join TDA CEO, Jenny Dodd for a panel discussion with three leaders of industry about how they think VET and HE integration might be different from 2023 onwards.
Consulte Mais informação "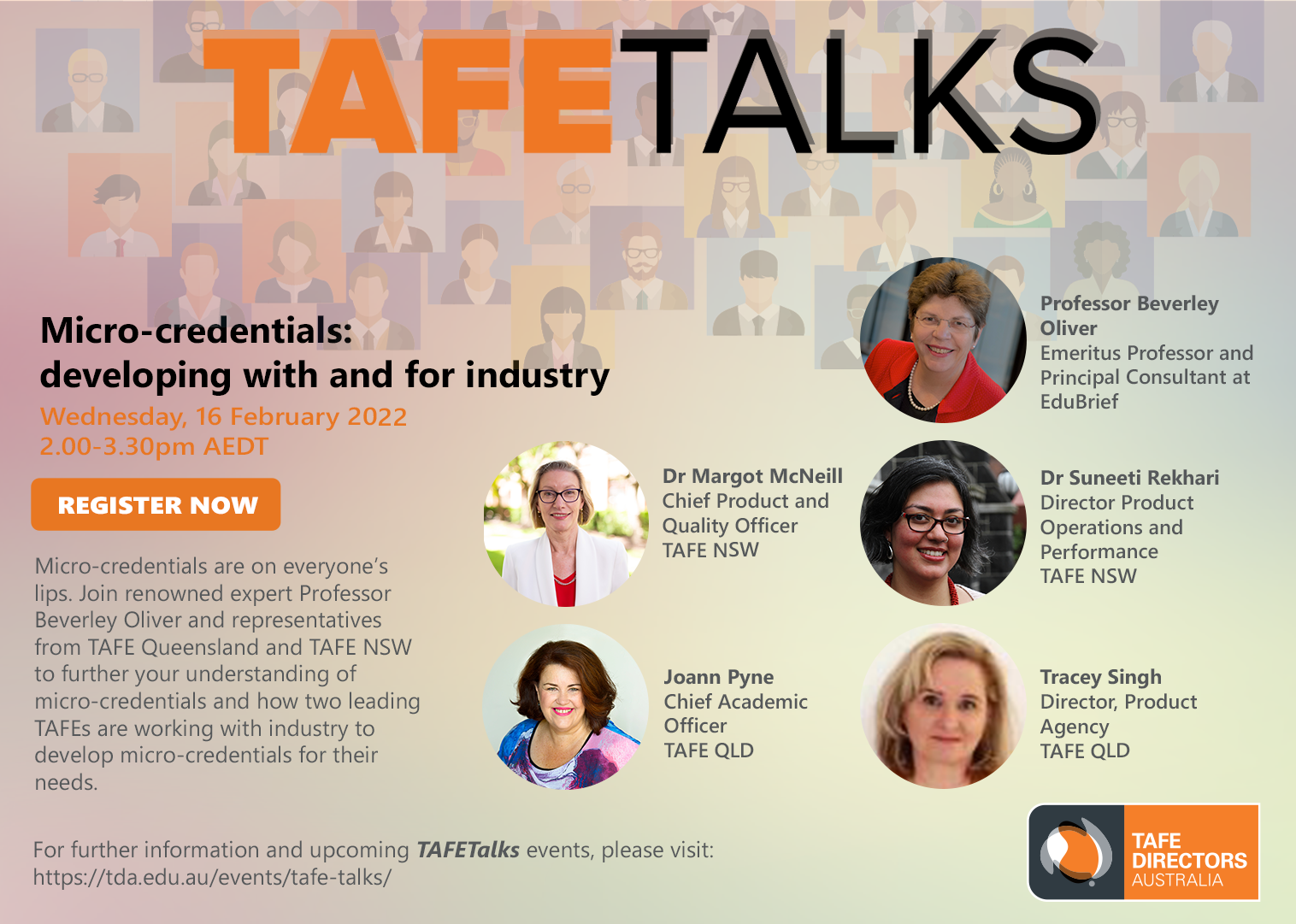 Professor Beverley Oliver's slides are available to view here. TAFE NSW's slides are available to view here. D2L's slides are available to view here. We would be grateful if you could spare 3 minutes of your time to share your anonymous feedback on the webinar.  This will help to inform future events. Please click here to provide your feedback.
Consulte Mais informação "