International Student of the Year – SuniTAFE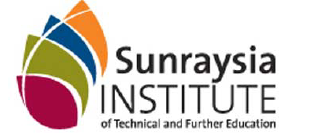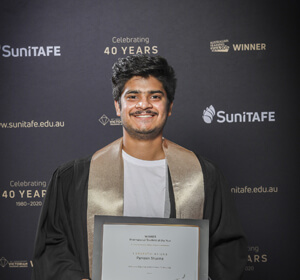 Parveen Sharma is International Student of the Year 2020 at SuniTAFE in Mildura where he studied the Diploma of Information Technology Networking. "I don't see my achievements as achievements, they are milestones," says Parveen Sharma, a man with a well-planned path to success.
Information technology has been Parveen's passion since he exhausted playing all the games on his laptop in his hometown of Kurukshetra in the Haryana Province of India and became curious about how technology worked. Parveen admits, "I wanted to know, how does Wi-Fi work." He started with deciding to create his own game so he learned Java programming language to do so and then to get deeper into the technical side, he pulled apart routers and put them back together again.
Parveen chose to study overseas and quickly set his sights on Australia because of its multicultural reputation. He sought advice from an education agent who laid out his options, including SuniTAFE in Mildura which was likened to him as more of a village.
"I wanted to see the real Australia and how Australia really works. Plus my agent said studying in Mildura is cheaper than in a city, so I thought I would give it a go," explained Parveen on how he came to study a Diploma of Information Technology Networking at SuniTAFE.
An additional benefit for IT students at SuniTAFE is the ability to also undertake professional certifications in Cisco and Red Hat Academy, both of which Parveen believes demonstrate skills that industry need and will increase his employability.
In India, Parveen undertook some initial studies at a local college while he prepared for his studies abroad. He explains that the two study experiences could not have been more different with the style of classes involving more teacher interaction, the practical component of his Australian course and that the computing facilities and IT infrastructure at SuniTAFE was on par with the most expensive and exclusive private colleges in India. Parveen has found his SuniTAFE teachers to be supportive and always prepared to answer every question he had, taking the time to ensure that he understood each concept. "They stick around you until you get it," he says.
Parveen has found living on-campus at SuniTAFE residences to be a perfect fit for him. Living on campus is convenient and he can pop home to make lunch and have peace to focus on his studies and sleep. Affordability, security and the social aspect are also reasons he enjoys living on campus. When taking time out to relax, Parveen enjoys going to the Mildura Riverfront to lie on the grass under a tree and he thinks the Murray River is a great part of living in the region.
Parveen has a well thought-out plan for his future beyond SuniTAFE. First, he wants to gain industry experience, putting the skills he has gained to work and see how the business world operates. Parveen then plans for more study and in seven or eight years would like to start his own business because he believes that people need ideas.
Parveen describes winning the International Student of the Year Awards as the best day of his life in Australia. "I was so happy, more so than for graduating as I never thought I might be the winner. I couldn't stop smiling all night, it means everything to me."
One final piece of advice Parveen has for other students preparing to come to SuniTAFE is to be positive and stick with what you want to do. "Some situations are harsh but there is no shame in calling for help, so ask if you are struggling to deal with anything."