TAFE Directors Australia (TDA) dengan bangga mempersembahkan… TAFETalks
TDA is excited to announce upcoming events in the TAFEtalks series.
Registration for these events is free! If you cannot attend the event live, register anyway and you will receive a link to the recording.
TAFEtalks menyediakan platform virtual bagi staf TAFE dan pemangku kepentingan VET lainnya yang tertarik untuk berkumpul, berbagi, belajar, dan menjalin hubungan lintas institut dan negara bagian dan teritori mengenai isu dan prioritas saat ini.
Staf TAFE sangat dianjurkan untuk menghadiri acara dan berpartisipasi penuh dalam sesi tanya jawab dan obrolan grup, namun, TAFEtalks terbuka untuk semua pemangku kepentingan yang berkepentingan.
TAFETalks: Register Now for Wed 20 October 2021!
TAFETalks: Breaking down the barriers – the future of VET in Schools
Tanggal:  Wednesday 20 October at 2.00pm ADST (Canberra/Melbourne/Sydney time)
Duration: 1 hour
Guest speakers:
Professor Peter Shergold AC, Chancellor Western Sydney University
Mr Steffen Faurby, Managing Director, TAFE NSW
Description: Peter Shergold AC is a renowned Australian academic, company director, and former public servant. Peter has been the Chancellor of Western Sydney University since 2011. Peter Shergold has chaired and co-chaired two recent reports on education. These include Melihat ke Masa Depan (2020) which was a review of senior secondary education pathways and In the Same Sentence (2021) on vocational education in NSW with David Gonski AC. Peter will reflect on outcomes and progress made since these reviews, particularly in the context of VET delivery in schools.
Steffen Faurby, Managing Director of TAFE NSW will provide information about TAFE NSW's model working with schools. He will also explore TAFE NSW's new Institutes of Applied Technology (IAT). IATs feature strong industry and tertiary educational partnerships to better respond to industry demand and emerging skills needs. IATs are blurring the boundaries between work and learning, and between higher education and vocational education.
Registration:  To register for this event, please klik disini.
AND for your diary – register now!
TAFETalks: Apprenticeships Part 1: Innovation and acceleration
Tanggal: Wednesday 17 November at 2.00pm ADST (Canberra/Melbourne/Sydney time)
Description:   This is the first part of a two-part series on apprenticeships. Join Dr Gavin Lind from Mining Skills Organisation Pilot and Michelle Hoad, Managing Director North Metroplitan TAFE in Western Australia to talk about innovation and acceleration of apprenticeships.
TAFETalks: Apprenticeships Part 2: Supporting students to complete
Tanggal: Wednesday 1 December at 2.00pm ADST (Canberra/Melbourne/Sydney time)
Description: This is the second part of a two-part series on apprenticeships. Join the National Careers Institute (NCI) Dianne Dayhew, Ben Barden, and Grant Dreher, CEO TasTAFE for an in-depth discussion on strategies for supporting students to improve apprenticeship completions.
TAFETalks: Academic integrity in VET and Higher Education
Tanggal: Wednesday 2 February at 2.00pm ADST (Canberra/Melbourne/Sydney time)
Guest speakers:
Dr Helen Gniel, Director – Higher Education Integrity Unit at the Tertiary Education Quality and Standards Agency (TEQSA)
Ms Sharon Waitzer, Director Engagement and Education at the Australian Skills Quality Authority (ASQA)


Description: All TAFEs are concerned about the rising instance of academic cheating, in particular the rise of websites that students who want to do the wrong thing can access. The two regulators, ASQA and TEQSA are developing strategies to minimise these risks and to exercise control in this area. Hear from  ASQA and TEQSA about their actions in relation to academic integrity and what your response can be in your TAFE.
TAFETalks: Micro-credentials: developing with and for industry
Tanggal: Wednesday 16 February at 2.00pm ADST (Canberra/Melbourne/Sydney time)
Description: Micro-credentials are on everyone's lips. Join renowned expert Beverley Olivier and representatives from TAFE Queensland and TAFE NSW to further your understanding of micro-credentials and how two leading TAFEs are working with industry to develop micro-credentials for their needs.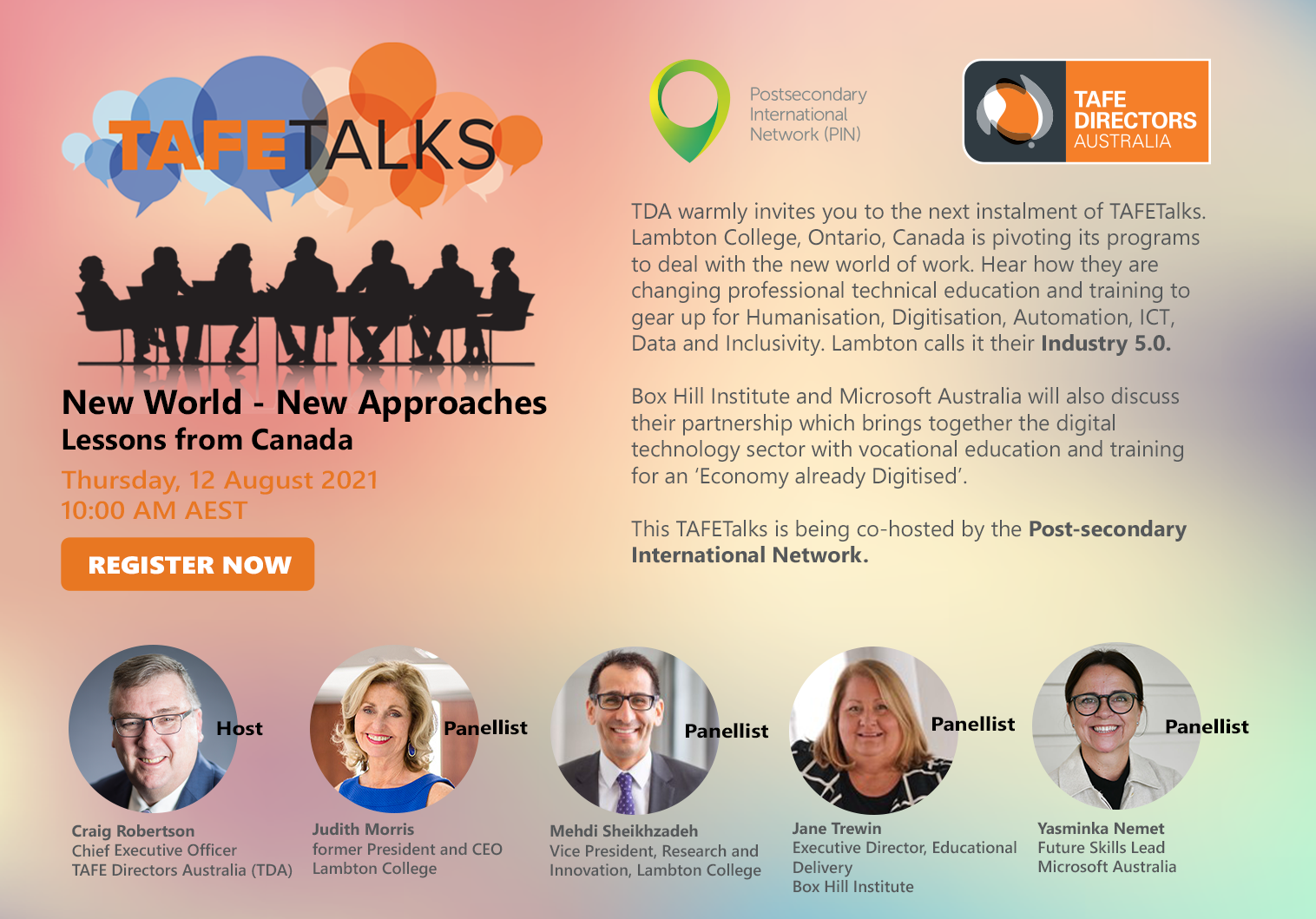 Lambton College, Ontario, Canada is pivoting its programs to deal with the new world of work. Hear how they are changing professional technical education and training to gear up for Humanisation, Digitisation, Automation, ICT, Data and Inclusivity. Lambton calls it their Industry 5.0. Box Hill Institute and Microsoft Australia will also discuss their partnership which brings together the digital technology
Baca lebih banyak "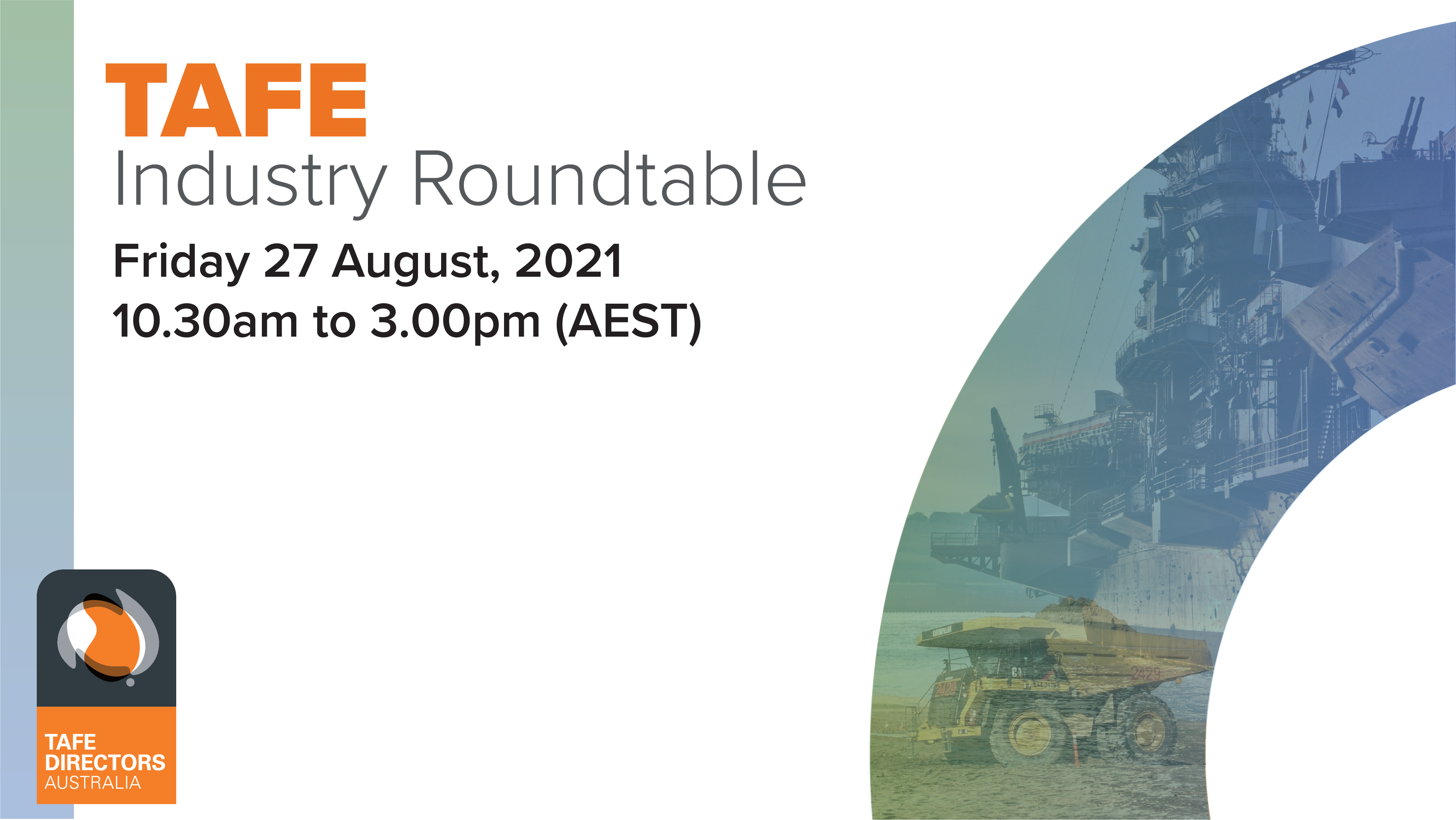 Over the next few weeks, we will share recordings from the recent virtual TAFE and Industry Roundtable held Friday 27 August 2021. These include an excellent, thought-provoking economic and social analysis by author and political commentator, George Megalogenis; inspiring TAFE case studies about partnering with industry and higher education providers; and insightful perspectives from Skills Organisations (SO) and Service Skills
Baca lebih banyak "
TDA Webinar – 29 April 2021 Engaging Trades Learners in a Virtual Class : Experiences and Lessons If you attended or have watched the webinar we would be grateful if you could spare 3 minutes of your time to share your anonymous feedback.  This will help to inform future events. Please provide your feedback here. If you would like to follow
Baca lebih banyak "