TAFE Opens Doors: A focused discussion on access and equity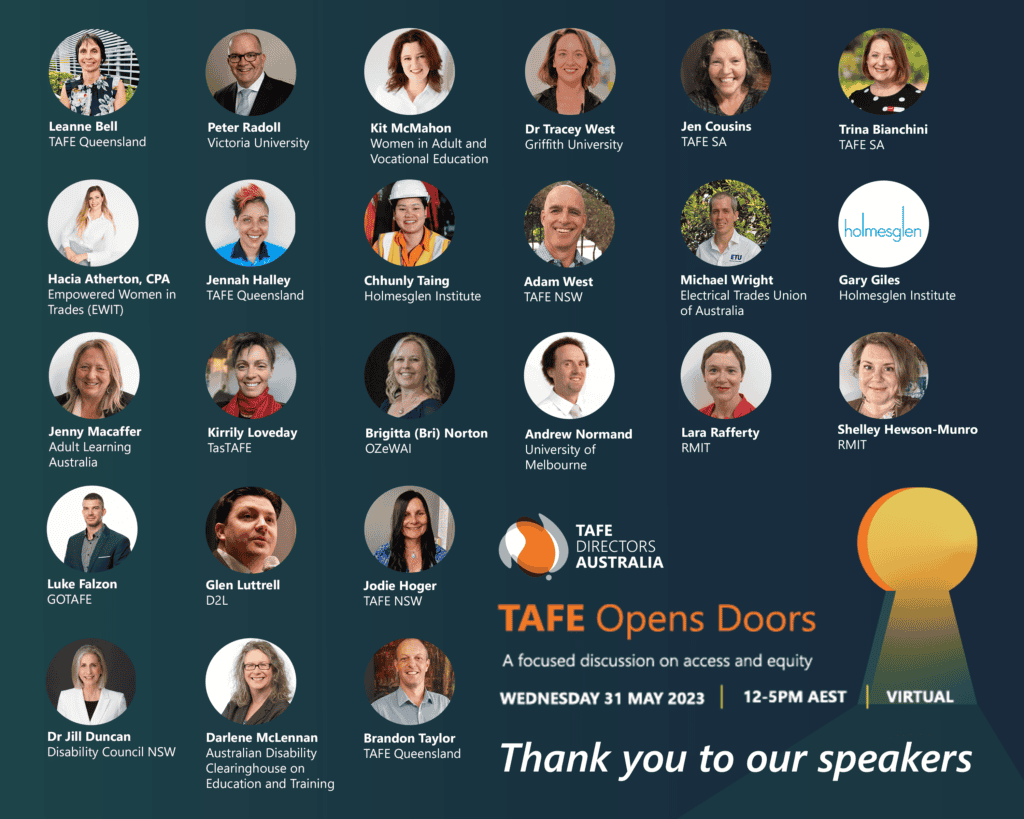 TAFE Opens Doors: a focused discussion on access and equity, on 31 May 2023 from 12pm to 5pm AEST.
This virtual event will focus on the important themes of access, inclusion and equity in TAFE. It is aimed at educators, policy makers, and other stakeholders interested in improving TAFE education and creating opportunities. The event will be hosted on Zoom Events and is free for all participants. Sessions have been designed for both educators and for all staff.
TAFE Opens Doors is an opportunity to engage with experts and peers in the field, and to showcase the best practices and learnings of TAFE in promoting access, equity, and inclusion. It aims to inspire and motivate participants to champion equity and access in education and training, and to recognise the significant economic benefits that result from creating more inclusive and equitable systems. This is an opportunity to engage in Australia's conversation and to highlight the transformative power of TAFE in providing life changing prospects for those who have had less opportunity.
Wednesday 31 May - Full Program
11:00am-12:00pm

Event Lobby Opens

Peter Radoll, Deputy Vice-Chancellor People & Organisation, Victoria University

Leanne Bell, Faculty Manager and Reconciliation Action Plan Chair, TAFE Queensland

BREAKOUT SESSIONS - CONCURRENT STREAM 1

1A: WORKSHOP

Kit McMahon

National Co-Convenor, Women in Adult and Vocational Education (WAVE)

Dr Tracey West

Lecturer, Griffith University

1B: WORKSHOP

Jen Cousins

Teaching and Learning Specialist - Accessibility & Inclusive Education, TAFE SA

Trina Bianchini

Teaching and Learning Specialist, TAFE SA

1C: PANEL

Trades: Breaking through stereotypes and creating a safe workplace and learning environment

Hacia Atherton, CPA

CEO & Founding Director , Empowered Women in Trades (EWIT)

Tony Cowlishaw

HoD, Building and Construction Mgt, Eng and Design, CIT

Garry Giles

HoD Civil, Safety, Industrial Skills & Tunnelling Centre, Holmesglen Inst

Jennah Halley

Apprentice of the Year 2022, TAFE Queensland

Chhunly Taing

Runner Up Apprentice of the Year 2022, Holmesglen Inst

Adam West

Industry Innovation Specialist, Electrotechnology and Renewable Power Generation, TAFE NSW

Michael Wright

Acting Secretary, Electrical Trades Union of Australia

BREAKOUT SESSIONS – CONCURRENT STREAM 2

2A: WORKSHOP

Jenny Macaffer

CEO, Adult Learning Australia

Kirrily Loveday

Education Project Leader – Foundations, TasTAFE

2B: WORKSHOP

Brigitta (Bri) Norton

Accessibility Lead, OZeWAI

Andrew Normand

Web Accessibility Lead, University of Melbourne

2C: WORKSHOP

Beyond Problem Thinking: New approaches to strategy and action for inclusion and equity

Lara Rafferty

Associate Director Equity and Inclusion, RMIT University

Shelley Hewson-Munro

Manager - Prevention, Masculinities & Learning, Health, Safety & Wellbeing , RMIT University

BREAKOUT SESSIONS – CONCURRENT STREAM 3

3A: WORKSHOP

Luke Falzon

Director, Student Success, GOTAFE

Glen Luttrell

Senior Solutions Engineer, D2L

3B: FACILITATED DISCUSSION

Jodie Hoger

Disability Service Manager, TAFE NSW

Dr Jill Duncan

Deputy Chair of the Disability Council NSW, Associate Professor, University of Newcastle

Darlene McLennan

Manager & NDCO
Australian Disability Clearinghouse on Education and Training (ADCET)

3C: WORKSHOP

Brandon Taylor

Mental Health Manager, TAFE Queensland