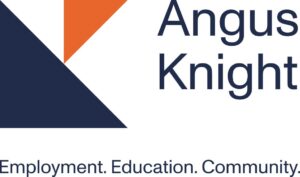 Angus Knight is a group of innovative businesses specialising in delivering employment, education and community development outcomes around Australia. Our unique business partnership model creates greater social impact, engagement and opportunities locally, nationally and internationally.
Our family of businesses is dedicated to empowering the people and communities we work with every day. We specialise in helping disadvantaged Australians including First Nations peoples and people living with a disability to access and engage with employment and education opportunities.
In our 30-year history, we have helped more than 1 million Australians to learn, find employment and discover new career opportunities.
Our Jobfind employment service in NSW, QLD and VIC tailors support to job seekers so they have the skills and opportunities to find and sustain work and connects employers with the right people for their jobs.
Our Real Futures business in NSW, NT and WA specialises in Indigenous employment, with a focus on job readiness, training and sustainable employment.
Our First Nations companies specialise in delivering the Australian Government's community development programs in remote communities.
"We are investors in human potential."
The affiliation with TDA brings exciting opportunities to create new and innovative pathways to employment for participants of TAFE and Angus Knight companies.
Watch this story: How Jobfind and the local TAFE collaborated to change Luke's life: