Caterers are well served by cookery qualification – TAFE SA
Billie Cornthwaite has taken her interests in entertaining and gardening to the next level, combining them in a successful business with the help of a Certificate III in Commercial Cookery from TAFE SA.
Billie is the owner of Meez On Plus Catering, which provides food for events in the corporate sector and private functions including weddings.
She describes herself as a "rustic cook" with a preference for fresh, local produce. Her specialty is bush food with many of the native ingredients, including river mint, warrigal greens and raspberries, grown in her garden.
"I grew up in a small country town in the Mallee and we were always gardening. I was always aware of where my food came from and I think it makes sense to use what we grow," she says.
Billie was looking for a career that was more family friendly than the marine biology she originally studied when she enrolled in cookery at TAFE SA's Noarlunga campus.
"I'm a mad-keen entertainer and I thought maybe I could turn my passion into a new career," she says.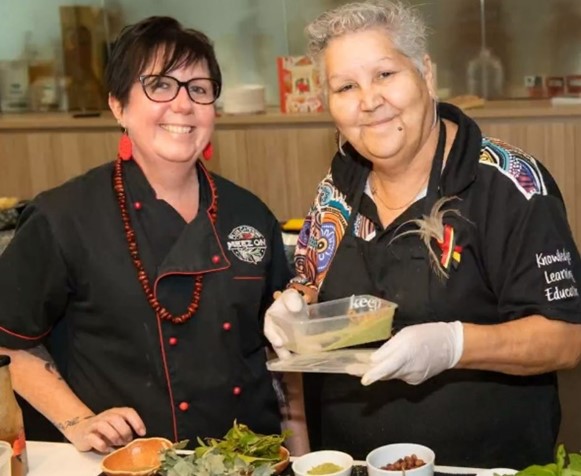 "The flexibility to study at TAFE SA part time and at night was great. My lecturers were always available and always are – even now I'm not a student."
Billie has been running Meez On Plus full time for three years and has built up a reputation for her bush food menus and workshops.
During NAIDOC Week, she was involved in seven events, providing catering and hosting information sessions about growing and using native ingredients with the help of her friend and Aboriginal elder, Aunty Daphne.
She says running her own business has enabled her to be around her family, including six children and one grandchild and promote what she's passionate about.
While COVID-19 has been a challenge for an events-based business, she says she's learnt to work around the pandemic and has been well supported by her customers.
"At the height of the restrictions we were delivering meals to people's homes and catering for small family functions," she says.
"Going forward we'll be focusing on individual snack boxes for events."
Billie, who is a finalist in the SA Woman Awards in the category of Quiet Achiever. supports TAFE SA students with work placements and has employed recent graduate Jacqui Davis.
Jacqui is a qualified trade baker and after five years at home with two young children, she decided to build on her skills to enhance her employment opportunities.
She studied the Certificate II in Kitchen Operations and the Certificate III in Commercial Cookery at TAFE SA's Noarlunga campus.
"It was nerve-wracking at first to go back to study, but Alan and Chris were wonderful lecturers and I just sort of blossomed," Jacqui says.
She has been able to channel her passion for baking into catering and enjoys the preparation work and meeting deadlines.
"Every day is different with Billie. Her bush foods are amazing and her garden-to-plate approach has been eye-opening," she says.
More information about TAFE SA cookery and hospitality courses is available here.