A career that counts – TAFE Queensland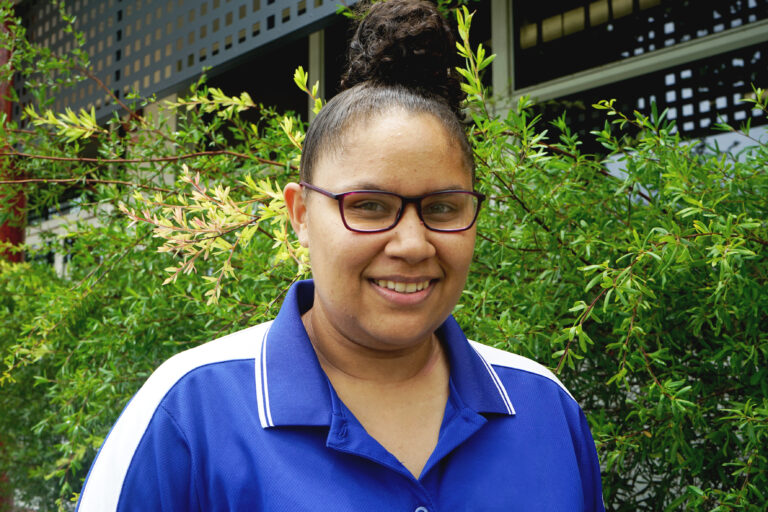 9 November 2020
Tamika Ware is on track to turn her passion for numbers into a rewarding career. High school maths class was the stuff of nightmares for some teenagers, but not for Tamika.
"When I was younger I developed a big passion for mathematics and I got good grades in maths at school," Tamika said.
"I have always really loved numbers and how they tease my brain, so the idea of working in accounting has been a dream of mine."
Born and raised in Cairns and with cultural ties to Moa Island, Tamika turned to TAFE Queensland to kick start her career.
"When I finished Year 12 I moved to Thursday Island and began working full time and studying a Certificate III in Business Administration (BSB30415)."
During her course, Tamika learned the art of balancing work, life and study when she welcomed a baby boy.
"There were times when it was hard to manage full-time work with training and caring for my son. But with the help of my partner I was able to make time for my son and juggle both work and my studies."
After completing her business administration training, Tamika went on to enrol in a Certificate IV in Accounting and Bookkeeping (FNS40217), an away from base course.
"The program was delivered via residential study blocks, so I had to travel from Thursday Island to Cairns for my training," she continued.
"My son travelled with me to every residential block and I'm forever grateful for my mum, who lives in Cairns, for the support she gave me during my studies."
"My mum works full time but, when I had a study block, she was able to take leave from work so that she could help look after my son which allowed me to focus on my training."
"It was a big relief when my accounting and bookkeeping certificate arrived in the mail. I know I worked really hard for my qualification so it was nice to know that all of the sacrifices had paid off."
Tamika, 21, said she's now keen to give back to her people.
"I want to use my skills to help out my family and the community. My relatives are starting up their own businesses and that really motivated me to push myself to complete this qualification so I can assist them with the accounting side of things."
"I also want to enrol in the Diploma of Accounting (FNS50217) next and one day start up my own business."
Business and accounting teacher, Anne Hoepfner said Tamika is a very driven student.
"I first met Tamika during her business administration studies. She was a quiet but dedicated student, and I was delighted when she decided to enrol in the Certificate IV in Accounting and Bookkeeping (FNS40217)," Anne said.
"Tamika worked full-time, but she was disciplined in her studies. She always stayed in touch and she took every opportunity to catch up with me face-to-face so she could keep moving forward with her training."
"I know that Tamika will do well in the diploma course."
Tamika said upgrading her skills hasn't always been easy, but she encourages others to face their challenges.
"My advice to everyone is just get in and remain focused on achieving your goal."